New CV course from FutureLearn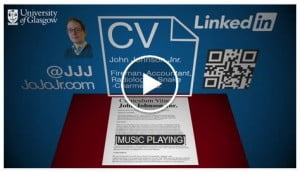 This free online CV course from FutureLearn  which starts on 14 March from the University of Glasgow aims to guide you through the CV writing process, helping you create a CV online that will help you net your dream job.
By the end of this CV course, they say that you will be able to improve your existing CV, not only by making it more digital and putting your CV online, but also through being more aware of what makes a good CV and what makes a bad CV.
CV course overview
In Weeks 1 and 2, they will look at all of the key skills you'll need to perfect your CV – the idea is that you'll build up these key skills so that you'll be able to see a clear improvement in your CV writing. In Week 2, they will consider how digital you want your CV to be, so that, by the end of the course, you'll be in a great position to put your CV online and net that job.